This article is a "stub", that means key elements are incomplete, work in progress, or missing completely. You can help TaRapedia by expanding it. Once the missing elements have been filled in, please remove this tag.
---
Vogren's Hologram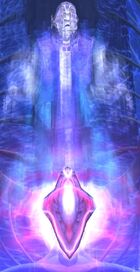 Overview
Edit
Vogren's Hologram gives out the Trinity Bridge Logos quests. In-game it is referred to as Holographic Projection Device.
Vogren was the greatest architect of the Foreans. His works were patterned after Eloh architecture, and included the beautiful and mysterious Trinity Bridge. Vogren's Tomb was likewise fashioned on Eloh stylization, and includes the Hologram that can intuitively interact with Receptives, helping them on their journey to find several critical logos.
Vogren's holographic image is often mistaken for an Eloh holographic image.
Location
Edit
Ad blocker interference detected!
Wikia is a free-to-use site that makes money from advertising. We have a modified experience for viewers using ad blockers

Wikia is not accessible if you've made further modifications. Remove the custom ad blocker rule(s) and the page will load as expected.