Robocrusty
Talk

0
2,825pages on
this wiki
Robocrusty
Mission sequence
Requirement:
None
Follow-up:
Required Level  ??
Contacts
Mission giver:
Private Heard
- Location:
Icarus Post
Reward giver:
The Director
- Location:
Penumbra Headquarters
Rewards
XP:
110,000
Credits:
8,800

You will be able to chose one of the following;
Animatics Electric Net Gun
Vitalius Laser Pistol
ChiTech Endothermic Polarity Gun
AccuMax Chaingun
Overview Edit
Escort the malfunctioning Thraxus Machina to "The Director" of Penumbra HQ at Tantalus Base, in the large cavern to the northwest.
Objectives Edit
Talk to Private Heard again when you are ready to go
Tell Heard you're ready to go.
Escort the Thraxus Machina named Robo to 'The Director' at Penumbra HQ
Dialogue Edit
Briefing
Edit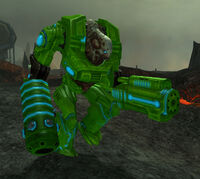 Private Heard
:
If you're heading to Tantalus, can you take Robo with you? He's been malfunctioning for a few days now.
Robo is our nickname for a Thraxus Machina stationed here at Icarus. The Thraxus Machina were made by the black-ops boys at Penumbra. They managed to reverse-engineer the Bane technology they used to make Machina back on Foreas and figured out how to make our own cyber-zombies out of dead Thrax. They're kind of creepy, but they come in handy, especially for espionage and such.
Anyway, something's wrong with Robo. He's getting all twitchy and his voice synthesizer's on the fritz. Take him back to Penumbra HQ for a checkup, will ya? When you get there, look for a serious looking dude called "The Director." He's chief spook these days.
Talk to me again when you're done with your business here at Icarus, and I'll send Robo with you.
Talk to Private Heard again when you are ready to go
Edit
Ready to go? Hey Robo, this soldier's gonna take you back to Penumbra to get patched up. Follow him, will you?
Escort Robo to Penumbra
Edit
This unit is malfunctioning? How unfortunate.
Debriefing
Edit
If we can't fix it, we'll certainly replace it. We've no shortage of dead Thrax.
Remarkable piece of work, the Thrax. A miracle of evolution, actually. Sleek, dark and deadly. A natural born predator. My agents can learn a lot from them.
Walkthrough Edit
Robo is a lot more delicate than he looks - even beam mantas will quickly start eating into his health. He will not fight unless he himself is hit, and he only uses the weapon on his left arm which looks like electric but is probably laser (since it damages beam mantas) - it fires in bursts of 3 with about a second delay after the bursts.