Rijii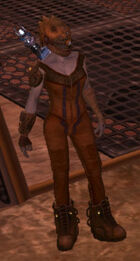 Overview
Edit
Riiji is a mission-bearing contact that a player encounters in Tabula Rasa.
Location
Edit
Missions
Edit
Dialogue
Edit
"I've got something very important here, but I'm not sure you're the right person to tell."
Ad blocker interference detected!
Wikia is a free-to-use site that makes money from advertising. We have a modified experience for viewers using ad blockers

Wikia is not accessible if you've made further modifications. Remove the custom ad blocker rule(s) and the page will load as expected.