Radial menu



The radial menu, a circular "pie" menu, is the main menu of the game. It gives the player access to all important sub-menu windows.
The radial menu appears in the center of the screen if you press [CTRL]. At the same time, the game switches from action mode to command mode, so that you can use your mouse pointer to click the window elements.
Menu layout
Edit
Player interaction
Edit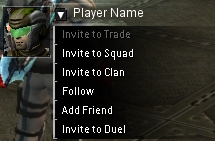 If targetting a player with the reticle when bringign up the radial menu, further interaction options will be displayed:
External links
Edit
Ad blocker interference detected!
Wikia is a free-to-use site that makes money from advertising. We have a modified experience for viewers using ad blockers

Wikia is not accessible if you've made further modifications. Remove the custom ad blocker rule(s) and the page will load as expected.