Net Gun
Talk

0
2,825pages on
this wiki
Net Gun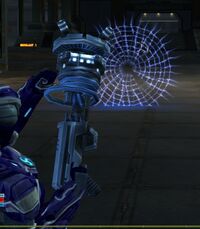 The Net Gun is a Ranger class weapon, requiring Training in Net Guns. It's a medium range single-target weapon that has the unique ability to root the target to the ground and prevent them from moving. While the damage of this weapon is low, the crowd control it offers and the DoT applied while the target is rooted makes it very useful against melee-oriented enemies. Fully trained, the weapon can deal a fair amount of damage.
Net Guns can be equipped by dragging them from your inventory to the weapon tray. Net Guns benefit from beading the target and damage is increased while crouching. As with most weapons in Tabula Rasa there is no recoil and you can hold down the fire button until the magazine is empty or the weapon jams, after which you will need to reload.
The maximum range for a Net Gun is 40 meters - it is not possible to fire at targets beyond this range.
The Net Gun fires an energy mesh at the target, temporarily rooting it in place. The net does damage on initial impact and continues to do damage over time while the net is in place. The DoT ticks 8 times, in addition to the damage from the initial shot. The damage value listed in the Net Gun's statistics is "per tick" damage, not the total damage for each shot.
The damage from the net and the rooting effect seem to be entirely separate. If the weapon is fired at an enemy that cannot be rooted (spiders, for example) the damage over time still applies. Equally if the target is immune to damage type dealt by the Net Guns they may still be rooted in place.
The Net Gun overheats very quickly. Firing all 3 rounds without pausing will cause it to overheat. It is not intended to be a primary weapon, so it's important to carry additional weapons to use while a target is rooted by the net.
Both the initial impact damage and the damage over time produced by the Net Gun are increased by abilities such as Rage and Called Shot 5.
Damage progression
Edit
| | | | |
| --- | --- | --- | --- |
| Subtype | | | |
| Level | Electric Net Gun | Incendiary Net Gun | Cryogenic Net Gun |
| 15 | 73 / 242 | N/A | N/A |
| 16 | 80 / 264 | N/A | N/A |
| 21 | 123 / 408 | 123 / 408 | 114 / 372 |
| 26 | 189 / 629 | 192 / 638 | 175 / 574 |
| 31 | 292 / 969 | / | 270 / 885 |
| 36 | 450 / 1495 | / | 416 / 1365 |
| 41 | 694 / 2306 | / | / |
| 46 | 1 070 / 3556 | / | / |
| 50 | 1 514 / 5028 | / | / |