Mech Armor
Talk

0
2,825pages on
this wiki
Mech Armor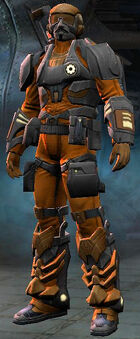 Mech Armor is an armor of the Sapper class. It requires Mech Body Armor training.
From the description of the training:
"Allows the use of Mech Body Armor. Mech Body Armor offers accelerated Power recharge rates to the wearer and nearby squadmates. Improved skill increases the Power regen bonus and radius of the aura."
Damage Absorption Rating: Excellent
Body Armor Recharge Rate: Poor
Damage Bleed-Through: Low
Training Progression
Edit
Level
1 (I)
2 (II)
3 (III)
4 (IV)
5 (V)
Name
Novice
Layman
Expert
Master
Elite
Description
Improves the effectiveness of Mech Body Armor you wear. Each skill level improves the Power regen bonus granted by the armor.
Power Regen Bonus per piece worn
2%
4%
6%
8%
10%
Bonus Aura Radius
5 meter
10 meter
15 meter
20 meter
25 meter
Armor progression
Edit
The table below lists the armor values for each level, piece and quality of Mech Armor. Some of these values are predicted and may be off by 1 point, so feel free to correct any inaccuracies. Always be sure to only enter the values from fully repaired armor.
Level (Part)
Standard
Modified
Experimental
Prototype
15 (Head)
409
491
573
654
15 (Torso)
613
736
858
981
15 (Hands)
204
245
286
327
15 (Legs)
511
613
716
818
15 (Feet)
307
368
429
491
15 (Full Set)
2044
2453
2862
3271
20 (Head)
631
757
883
1010
20 (Torso)
946
1135
1324
1514
20 (Hands)
315
378
441
504
20 (Legs)
788
946
1103
1261
20 (Feet)
473
568
662
757
20 (Full Set)
3153
3784
4414
5045
25 (Head)
973
1167
1362
1556
25 (Torso)
1459
1751
2043
2334
25 (Hands)
486
584
681
778
25 (Legs)
1216
1459
1702
1946
25 (Feet)
729
875
1021
1166
25 (Full Set)
4863
5836
6809
7780
30 (Head)
1500
1800
2100
2400
30 (Torso)
2250
2700
3150
3600
30 (Hands)
750
900
1050
1200
30 (Legs)
1875
2250
2625
3000
30 (Feet)
1125
1350
1575
1800
30 (Full Set)
7500
9000
10500
12000
35 (Head)
2313
2776
3238
3701
35 (Torso)
3470
4164
4858
5552
35 (Hands)
1157
1388
1620
1851
35 (Legs)
2892
3470
4049
4627
35 (Feet)
1735
2082
2429
2776
35 (Full Set)
11567
13881
16194
18507
40 (Head)
3568
4282
4995
5709
40 (Torso)
5351
6421
7491
8562
40 (Hands)
1784
2141
2498
2854
40 (Legs)
4460
5352
6244
7136
40 (Feet)
2676
3211
3746
4282
40 (Full Set)
17839
21407
24975
28542
45 (Head)
5502
6602
7703
8803
45 (Torso)
8253
9904
11554
13205
45 (Hands)
2751
3301
3851
4402
45 (Legs)
6878
8254
9629
11005
45 (Feet)
4127
4952
5778
6603
45 (Full Set)
27511
33013
38515
44018
50 (Head)
6000
7200
8400
9600
50 (Torso)
9000
10800
12600
14400
50 (Hands)
3000
3600
4200
4800
50 (Legs)
7500
9000
10500
12000
50 (Feet)
4500
5400
6300
7200
50 (Full Set)
30000
36000
42000
48000
Versions
Edit
Mech Armor is available in the following versions:
| Version | Boots | Gloves | Helmet | Legs | Vest |
| --- | --- | --- | --- | --- | --- |
| 1 | | | | | |
| 2 | | | | | |
| 3 | | | | | |
| 4 | | | | | |
| 5 | | | | | |
| 6 | | | | | |