Ad blocker interference detected!
Wikia is a free-to-use site that makes money from advertising. We have a modified experience for viewers using ad blockers

Wikia is not accessible if you've made further modifications. Remove the custom ad blocker rule(s) and the page will load as expected.
Game Basics

Installation, setup, and getting started in-game
What you see on your screen
Understanding the game lingo and language
The story behind it all: The Eloh, the Bane, and the AFS




The Universe

Maps and descriptions of the TR universe
The pictographic language of the Eloh, with locations
We'll show you how deep the wormhole goes
The people fighting with us
The enemies we must defeat

Characters and Equipment
Helping out
To write a new article, just enter the article title in the box below.
Not sure where to start?
Adding content
Talk and more...
Check out the community portal to see what the community is working on, to give feedback or just to say hi.
Featured article

The Logos tablet - also known as the Tabula - is a table of all Logos elements known to a character, representing the Logos knowledge in his head.
To access the Logos tablet open any pane of the Character window, then click the "Logos tablet" tab at the bottom right or simply press "J".
The tablet currently has 10 columns x 39 rows, with the bottom right element missing. This makes a total of 389 logos elements, of which 169 (as of 12/07) are currently in the game.
The Latest News

All the news (and the olds too)
Featured media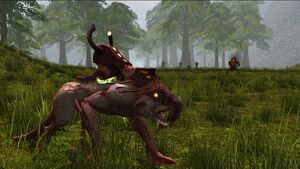 A howler.
Uh-oh! Our main datacenter is currently unavailable, so this is our backup. Unfortunately, this means you may not be able to do certain things like edit, upload, or chat.
We are working to fix the problem, thank you for your patience! If you see this for an extended period of time, feel free to contact Fandom at community@wikia.com.