Logos Mentor Ensine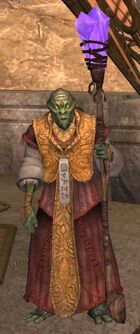 Overview
Edit
Logos Mentor Ensine is a mission-bearing contact that a player encounters in Tabula Rasa.
Location
Edit
Missions
Edit
Batch 1:
Batch 2:
Note: The requirement for the second batch to become available is not clear. It is not just having finished batch 1. Infact, you can get batch 2 without having finished all of batch 1. It may have to do with having unlocked the Lower Eloh Creek waypoint.
Dialogue
Edit
"There is much to learn in our universe. To learn the gifts of Logos is to learn awareness and, thus, being. I can be your guide in our Logos journey, and together we may open your essence to enlightment."
Ad blocker interference detected!
Wikia is a free-to-use site that makes money from advertising. We have a modified experience for viewers using ad blockers

Wikia is not accessible if you've made further modifications. Remove the custom ad blocker rule(s) and the page will load as expected.