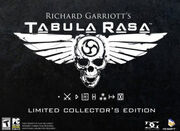 Product Description
Edit
"Includes an exclusive Boo bot noncombat pet, four exclusive dye recipes to customize your armor, a Signature Logos character emote, metal military challenge coin, a set of Tabula Rasa dog tags and a Making of Tabula Rasa DVD
Comes with an AFS field guide, seven double-sided prints, a 23 x 16 full-color poster and a welcome letter from Richard Garriott"
Included Items
Edit
4 dye Colors
23x16 Poster
Making-Of DVD
Dog Tags
Challenge Coin
/logosphi emote
/thumbs emote
Ad blocker interference detected!
Wikia is a free-to-use site that makes money from advertising. We have a modified experience for viewers using ad blockers

Wikia is not accessible if you've made further modifications. Remove the custom ad blocker rule(s) and the page will load as expected.