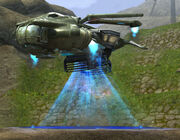 Overview
Edit
The C-6801 Hedgehog dropship is a means of travel within Tabula Rasa. There is usually one player-usable dropship landing area in each zone, at a base, though some zones have more. These dropships transport you from zone to zone on one planet.
You must walk over a dropship pad to active it. Once activated, that character can always teleport back to that zone via another dropship.
Once you walk over the dropship pad, a menu will appear showing what other zones you have unlocked. If you wish to travel from base to base, use a teleporter instead.
Dropship network
Edit
Ad blocker interference detected!
Wikia is a free-to-use site that makes money from advertising. We have a modified experience for viewers using ad blockers

Wikia is not accessible if you've made further modifications. Remove the custom ad blocker rule(s) and the page will load as expected.