This article is a "stub", that means key elements are incomplete, work in progress, or missing completely. You can help TaRapedia by expanding it. Once the missing elements have been filled in, please remove this tag.
---
Colonel 'Snake' Washington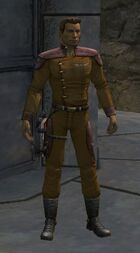 Overview
Edit
Col. Washington is the highest ranking AFS officer in Valverde Pools. His nickname was used in naming his base of operations, The Snakepit. 'Snake' is considered to be crazy and dangerous by many of the AFS in the zone.
Elimination: mission giver
Eastern Listening Post: mission giver
Spoils of War: reward giver
Ad blocker interference detected!
Wikia is a free-to-use site that makes money from advertising. We have a modified experience for viewers using ad blockers

Wikia is not accessible if you've made further modifications. Remove the custom ad blocker rule(s) and the page will load as expected.