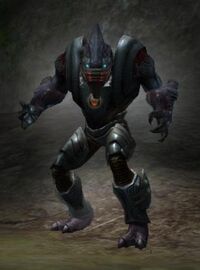 Caretaker Mordra is a Caretaker located in the eastern trench in Divide (south of Delta Outpost). He's usually to the south of the Meat Grinder, who can be found in the same trench.
Mordra is one of the boss targets in Divide Targets of Opportunity.
The time between spawns is at least 50 minutes. (As of Deployment 11.6, spawn time has been reduced to approximately 10 minutes.)
Mordra is level 24.
He spawns solo, no entourage to worry about, but there might be Bane ship that drop mobs, if it drop a caretaker, you are in deep trouble if you are solo.
His approximate spawn point is 534, -726
Confirmed above spawn point. Hunted him down at 539, -730 as of Dec. 8, 2008. [Idado, Cassiopeia]
Ad blocker interference detected!
Wikia is a free-to-use site that makes money from advertising. We have a modified experience for viewers using ad blockers

Wikia is not accessible if you've made further modifications. Remove the custom ad blocker rule(s) and the page will load as expected.