Captain DeLisi
Talk

0
2,825pages on
this wiki
Captain DeLisi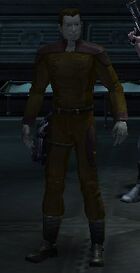 Overview Edit
Captain DeLisi is a contact in the Crucible zone of Ligo.
Location Edit
Missions Edit
Dialogue Edit
Captain DeLisi:
Captain DeLisi, but the guys just call me Captain Mike. I'm the de-facto Commander of "the Fort formely known as Intrepid." Or maybe I should say, "the pile of rubble formely known as a fort."
Commander Duncan was killed when the fort fell, and believe it or not, when the smoke cleared I was the highest ranking officer left. High Command can't spare any more officers, so they put me in charge.
Hey, somebody's got to guard the wormhole, am I right?